MEB Science Day about Pharmacovigilance: register now!
The evolution of 25 years of Pharmacovigilance
Any drug or vaccine has side effects. It is very important to keep a close eye, before market authorization and afterwards. With all the information pharmacovigilance provides, we constantly weigh the balance between efficacy and safety. Signals go from the Netherlands to Europe and back again. How do we look back on 25 years of pharmacovigilance? And what does the future look like?
MEB Science Day 2021:
"The Evolution of Pharmacovigilance in 25 Years"
Thursday afternoon, 18th of February 2021  | Online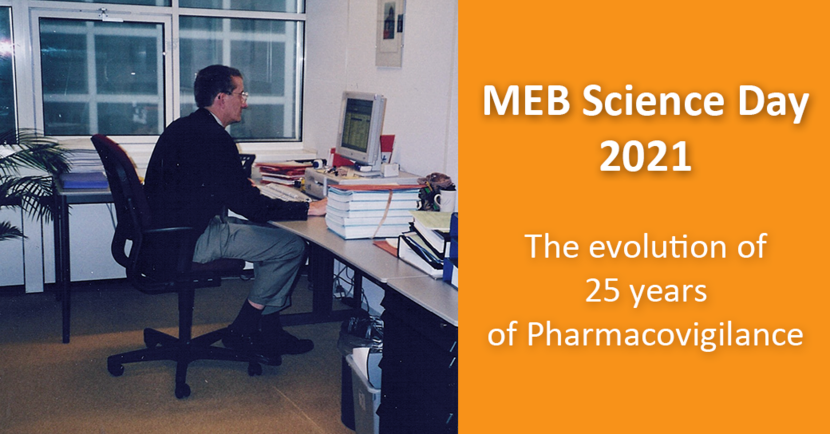 The programme
We kick off the programme at 13:00 CET with speakers: Prof. Bruno Stricker, Prof. Eugène van Puijenbroek and Sabine Straus, PhD. They will take you on a journey through the past, present and future of Pharmacovigilance.
MEB Chair prof. Ton de Boer welcomes you: "It is great that in these special times we can take a moment to look back on 25 years of development. Pharmacovigilance is an important part of our work, now and in the future."
Projections from the past
By prof. Bruno Stricker, Professor Pharmaco-epidemiology, Erasmus Medical Centre Rotterdam
"What can we learn from the history of pharmacovigilance from an epidemiological perspective? And which lessons do we take with us for the future? The government can and must play an important role in this, especially when we discover patterns in groups of medicines."
The Nature of Signals
By prof. Eugène van Puijenbroek, Head Science and Research at the Dutch Pharmacovigilance Centre and Professor of Pharmacovigilance at University Groningen
"New techniques will be developed to broaden the possibilities in the detection and analysis of side effects. But it will always be important to look at the nature of these signals. In perspective to the underlying pharmacology, but also in relation to the patient: the balance between positive and negative effects can differ, depending on their story."
Pharmacovigilance: looking towards the future
By Sabine Straus, PhD, chair Pharmacovigilance Risk Assessment Committee (PRAC) of the European Medicines Agency, MEB
"Attention for side effects signals and signal detection has increased a lot in the recent years. Automation of these processes have been an important step forward. Smarter ways of collecting information on side effects will be a next important step. We already see large amounts of data, but the key is in generating better quality information, to turn data into information and, subsequently, knowledge."
After these presentations, the participants will be divided into various workshops given by PhD students Lotte Minnema (UU/MEB), Remy Francisca (Erasmus MC/MEB), Lourens Bloem (UU/MEB), Esther de Vries (UMCG/MEB) and Nafise Ghalandari (Erasmus MC/MEB).
Register now!
The science day is open to everyone with an interest in regulatory science. In particular academics, pharmacists, doctors, scientists, patients and interested parties from the pharmaceutical industry and government. You can register for free until 12:00 on 17 February. We hope to see you there!