Regulatory Science Magazine 9: opioids and Real World Data
Today the Medicines Evaluation Board (MEB) publishes the 9th edition of its Regulatory Science Magazine. This edition features articles on the use of Real World Data and opioid-related problems. The magazine also includes thesis highlights by (PhD) students, meeting highlights and the latest information on the upcoming MEB Science Day 2020.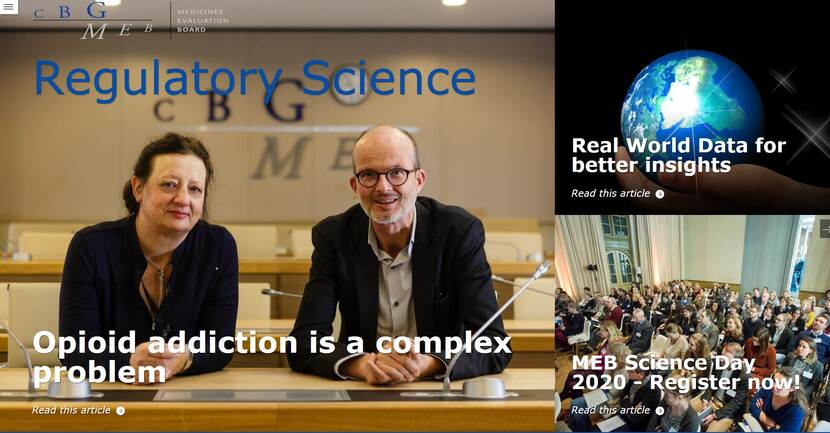 Professor Eric Boersma is an epidemiologist and MEB member. In an interview he discusses the rise of Real World Data. Randomised Controlled Trials (RCT) have been the gold standard for studying efficacy and safety of medicinal products. But Eric Boersma sees opportunities: "'Real World Data' - despite it being a buzzword - can help us gain a better, more complete picture of the breadth of patient populations, and provide an insight into how a certain trial-patient relates to the population of interest. And, thus, how to extrapolate trial results."
Opioids have been in the news on a regular basis. Both Marcel Bouvy and Liesbeth Rook are involved in task groups and projects that investigate the complex problems that arise around opioids and how different stakeholders can cooperate in fighting addiction.
MEB Science Day 2020
The MEB will be hosting the MEB Science Day on 13 February 2020. The theme of the day will be 'Replacement, reduction and refinement of animal studies'. Focus will be on developments in 3R (replacement, reduction and refinement) and what the future will bring. More information about the day and registration can be found in the magazine.
Subscribe to Regulatory Science Magazine
The MEB Regulatory Magazine is published three times a year and includes information about the latest developments in Regulatory Science. The online magazine will keep you updated on recent highlights and includes interviews, pitches by PhD students and the latest information on scientific events.
You can subscribe to the Regulatory Science Newsletter. The newsletter will inform you about all new editions of the MEB Regulatory Science Magazine as well as events such as the MEB Science Day.