8th edition Regulatory Science Magazine
Today the Medicine Evaluation Board (MEB) publishes the 8th edition of its Regulatory Science Magazine. This edition focuses on public trust in medicines. It also includes poster pitches by (PhD) students, an overview of PhD projects, and meeting highlights.
The magazine includes an extensive interview with prof. Liset van Dijk, honorary professor Pharmacy Health Services Research at the University of Groningen. In this interview, she talks about the role of trust in prescribed medicines when it comes to medication adherence. She also gives her vision on improving medication adherence.
"Up to now the effects of interventions to improve medication adherence have generally been assessed in Randomised Clinical Trials (RCTs)", says Liset Van Dijk. "Soon, however, we are going to do this differently. We are going to use between 4 and 8 pilots where local or regional partnerships of healthcare providers can register for the practical implementation of interventions."
For this edition, MEB chairman prof. Ton de Boer was also interviewed. He discusses different forms of clinical trial design and the use of real world data. "There is, however, still some way to go for such data can be used in a meaningful way. We still have to discover how valuable this is. It may well enhance the phase 3 studies, but also be useful thereafter in terms of gaining more of an insight into the favourable effects of medicines."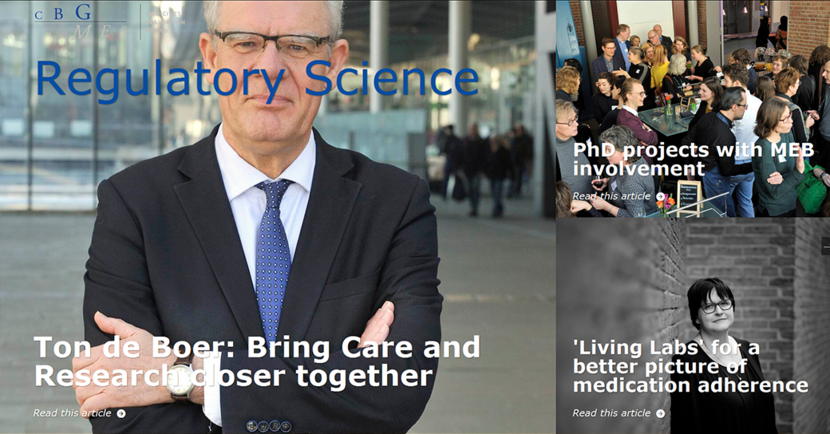 Subscribe to Regulatory Science Magazine
The MEB Regulatory Magazine is published three times a year and includes information about the latest developments in Regulatory Science. The online magazine will keep you updated on recent highlights and includes interviews, pitches by PhD students and the latest information on scientific events.
You can subscribe to the Regulatory Science Newsletter. The newsletter will inform you about all new editions of the MEB Regulatory Science Magazine as well as events such as the MEB Science Day.