Minister Bruno Bruins launches initiative for more reliable, easier-to-find information on medicines
Patients need reliable and comprehensible information on medicines that is easier to find online. In order to achieve this, Bruno Bruins (Minister of Health, Welfare and Sport) has launched the Network Patient Information today. Seven organisations today signed a letter of intent and will be working together on achieving this goal. The first specific step to be taken will be to link four different websites: the Netherlands Medicines Authority (MEB), the Netherlands Pharmacovigilance Centre (Lareb), the GPs (NHG, Thuisarts.nl) and the pharmacists (KNMP, Apotheek.nl).
'I want patients to have the best possible information about their treatment options. And of course, that includes medicines. Information needs to be easy to find and comprehensible, and this network will help to achieve this. For instance, together with their GP, people can decide which care would suit them best.' - Bruno Bruins, Minister of Health, Welfare and Sport
The Research Institute NIVEL, the Dutch Centre of Expertise on Health Disparities Pharos, and the Patients Federation Netherlands will all advise the participants in the Network. With their relevant knowledge, the Network can take into account the requirements and preferences of people who use medicines in the Netherlands.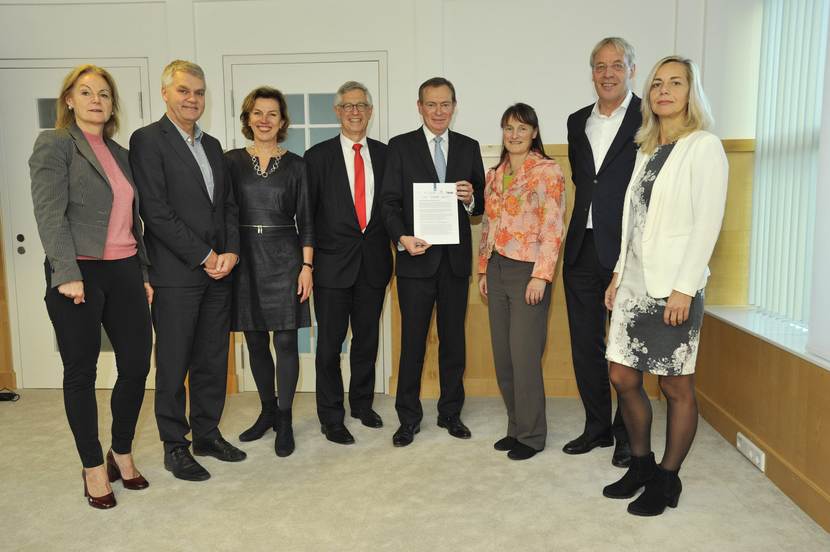 Why?
Many Dutch people use medicines. It is important that they are fully informed about the effects and risks of the medicines they use, and how to use them properly. The Ministry of Health, Welfare and Sport asked NIVEL to research patients' informational needs in 2016. One of their conclusions was that online information on medicines is too fragmented. Sometimes it is unclear whether a particular website is reliable and information about medicines is not always easy to find or understand. The partners of the Patient Information Network will now work together to make the search for reliable online information on medicines easier. Priority will also be given to improving the comprehensibility of information on medication . This can be done by using clearer language and animated videos, for instance.
Netwerk Patiënteninformatie: straatinterview
Als je medicijn gaat gebruiken, dan wil je natuurlijk dat ze veilig zijn. En waar haal je je informatie? Steeds meer mensen zoeken op internet naar heldere duidelijke, onafhankelijke informatie over medicijnen en medicijngebruik.
Vanaf vandaag gaan 4 partijen daarin samenwerken in het Netwerk Patiënteninformatie. Heel nuttig, en we gaan eens even vragen hier op straat hoe mensen denken over medicijngebruik - en hoe komen zij aan hun informatie?
Als ik vragen mag: als u medicijnen gebruikt, hoe zoekt u dan uw informatie op over die medicijnen?
Ik lees meestal wel de bijsluiter. Die in het doosje zit.
Internet.
Meestal krijg ik dat gewoon van de apotheker, van de huisarts.
Meestal doe ik dat via mijn arts, danwel via internet om te kijken wat voor soort medicijnen ik slik.
Heeft u dan een vaste site waar u begint te zoeken of hoe doet u dat precies?
Ik moet bekennen dat dat gewoon Google is en dan check ik wel of het geen reclamesites zijn van medicijnfabrikanten, maar van een verzekering of een thuisdoktersite ofzo. Dat vind ik dan wel betrouwbaar. En ik kijk ook altijd naar wat de ervaringen zijn van het medicijn, hoe het bevalt.
Ik gebruik Google, eigenlijk.
Het beste kun je denk ik naar de reviews kijken, naar wat mensen er zelf van vinden. Dus wat de ervaringen zijn van de medicijngebruikers.
Meestal krijg ik het door via de apotheek en dan zoek ik die op via Google, de dichtsbijzijnde winkel waar ik het kan afhalen.
Sowieso vergelijk ik websites en vaak kom je ook wel uit op de sites van de dokters zelf. Van de huisartsen of van het ziekenhuis of van het ministerie.
Zo zie je maar weer: mensen komen op verschillende manieren aan hun informatie over medicijngebruik. Soms van de overheid, soms van andere partijen. En een aantal van die partijen gaan nu samenwerken zodat het nog makkelijker wordt om duidelijke, heldere, objectieve informatie over medicijngebruik te vinden.
Lijkt me superhandig.